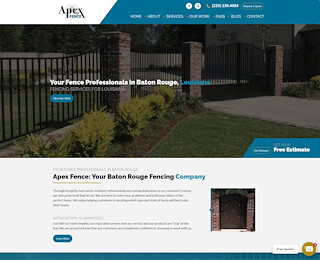 Fence installation near me ascension parish

Security and privacy are among the reasons why many homeowners fence their houses. A family should have a certain level of privacy and should not expose the home affairs to the public. However, how much should it cost you to fence your home or business premises. Going for the cheapest fence in town should not be your priority but a consideration. Fence installation sometimes can be expensive although you can lower the cost by going for more affordable fencing materials.

The main disadvantage of going for the cheap materials is the durability question. Cheap fencing materials might be of low-quality and might not serve you for a long time. You will be forced to spend on repairs or at some point replace the whole fence which is a double cost. Allowing professional fencing installers to work on your project, you enjoy the warranty and quality services among other benefits.

Factors affecting the cost of fence installation
The cost of fence installation is influenced by various factors which some you can avoid, but others lack an alternative. The following factors affect the cost of installing a fence in your compound;

1. Materials
The first step of fence installation should be considering the material you want to use. Here you have several options depending on your budget as well as the size of the area you want to fence. The fencing material prices vary from time to time and from one material to another for instance;

Aluminum now retails around $40 per foot
The chain–link price fluctuates since it relies on the steel price, but it ranges from $3-$8 per foot.
Wooden price also is not constant sometimes you can get it at $4 -$12 per foot.
Vinyl cost can be around $5-15 per foot.
Affordability of the fencing material is important but consider other factors such as maintenance, aesthetic value, and durability.

2. Hiring professionals
Fence installation jobs require a lot of skills to be successful. Therefore there is a need to hire professional fence builders to undertake your project. However, that does not mean you have to pay more for the services. Some companies are expensive to hire, but you can get the same services from another fence builders at a reduced cost. Take your time and look for a company that has reasonable charges. A good fence installation company should reason with you to ensure that you get quality services without digging deeper in your pocket. Fencing company has resources from the workforce to equipment not forgetting the warranties they provide to the clients.

3. Doing it yourself
You might be thinking that the installing the fence by yourself will lower the overall cost. However, you will have to purchase the needed equipment and hire some handymen since you cannot take care of all the work involved alone. Acquiring the equipment and materials together with paying the handymen can be even expensive than hiring a professional fence builder. In case of an accident, you will feel the pain of paying the hospital bills for the handymen since a majority of them lack insurance coverage. You will also have to delay some of your regular duties to install the fence.

Make your decisions wisely and you will enjoy quality fencing at a reasonable price. Visit our facility today for more information or give us a call at (225) 230 4000.
Fence installation near me ascension parish
Apex Fence, LLC.
2253284302
11553 Cedar Park Ave.
Baton Rouge
LA
70809
View Larger Map
We welcome your comments!