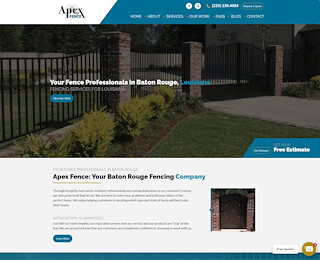 Whether you are looking for security or a way to mark the boundaries of your property, a fence is the logical choice. There are many types of fences depending on your particular needs. Experienced fence companies in Baton Rouge offer a wide selection of different fence materials, styles and installation options. The first step is to determine what you want to accomplish with a fence installation. Then you can begin to shop for a fence that best meets your expectations and your budget.
Types of Fences
Fence companies in Baton Rouge offer fences made of a variety of materials including wood, aluminum, chain link and vinyl. Chain link fences are common because they are affordable, relatively easy to install and last a long time. They don't require a lot of maintenance. Chain link fences can be used in a variety of configurations so it can fit almost any property. It is also available in any size variation so you can make it the exact measurements that you prefer.
Chain link fences are ideal for some situations but they lack privacy. Privacy fences are generally made from wood or vinyl so they can obstruct the view to keep people from being able to see inside. Wood is often used for privacy fencing and can be configured in a number of ways. It can be constructed in a way that is attractive so it actually improves the look of the home.
Vinyl is a relatively new material for fencing. It can generally be used in place of wood in many applications. Vinyl requires less maintenance than wood, making it a good choice for some homeowners. It can be more difficult to install vinyl fencing and it takes some expertise to ensure that the posts and panels fit together properly.
Privacy fences are also best for securing your yard. Whether you have children, pets or a pool, you want a fence that will keep your family safe and secure. Fences must fit the property and some types of fences are best suited for hilly or sloping yards.
Gates and Gate Access
Fence companies in Baton Rouge also offer a selection of gates and gate controls. You may need a gate for one of a variety of purposes. There are security gates, entrance gates and automatic gates along with custom gates that are designed to meet your specific needs.
Gates all have several things in common. They need to open and close either manually or automatically. Gates also need to have a locking mechanism so they provide security. Gates must also fit the desired opening. For example, some gates are designed for people while other gates are larger to accommodate vehicles.
You will want to discuss your gate needs with an expert at one of the leading fence companies in Baton Rouge. You will have different options and choices based on your needs. Gates can be installed as part of fence installations and can be secured using various methods. In addition, some gates can be controlled automatically by the home or business owner or by entering a code.
Fence companies in Baton Rouge
Apex Fence, LLC.
2253284302
11553 Cedar Park Ave.
Baton Rouge
LA
70809
View Larger Map
We welcome your comments!