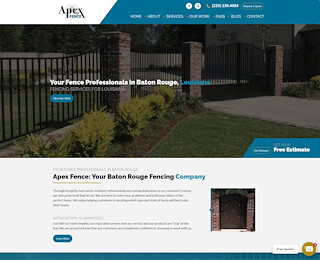 What you should know about Driveway gates Baton Rouge

If you own a car or you are planning to buy one soon, then you need to have driveway gate in your property. Fence gates can only allow one or two people to pass at the same time and not enough space to let a vehicle to move in. When fencing your home, it could wise to consider installing both fence gate and driveway gate. You can install both of them at the same place or in different areas to avoid inconvenience. A garden home, for instance, might need two entrance points, the main gate, and sub-gate for easy access to your garden.

However, just because the driveway is a type of entrance in your compound, it doesn't mean that you go with any gate you find on the market. Some gate sellers will not tell you the truth about the gate you are about to choose since they are only interested in making profits. There are factors you need to consider when choosing a driveway gate to ensure that you get the right one. Remember the gate purpose is not to access your property only, it should be security for your family. It is therefore advisable to pick a gate that will not allow easy break-ins by thieves.

Which is the best driveway gate?

Considering security and durability slide driveway gate tops the list. The gate unlike swing gates it will you serve for many years since the weight is evenly distributed. Thus, the changes or breaking are very minimal. If you have enough space, this will be the best gate for your property. Slide gate enables maximization of the safety devices efficiency because it eliminates the dead zones that swing gates expose. The dead zone is an area that is not covered by video cameras or other safety devices.

What are other types of driveway gates?
Apart from the slide gates, there are other types of driveway gates in Baton Rouge which include;
Swing gates
Retractable slide gates
Overhead driveway gates
You can choose the type of gate that you are comfortable with but compare the prices and the advantages one type has over the other before making your final decision.
Materials used to manufacture the driveway gates

Companies use various materials to create the driveway gates. On the market, you will find driveway gates constructed using Redwood which is stronger, weather resistant and lighter. Other gateways are made of iron or vinyl. Nevertheless, the gate frames are mostly made of steel material since it's strong and durable. It also capable of holding the whole gate structure. In case you like to have something stronger than the steel then stainless steel gate frame will be the best choice although it can be more costly.

Installing the driveway gate can be a challenge as it requires skilled personnel. After deciding on the type of gate to install in your property consider hiring professional complete the project. Each type of gate demands a specific skill to fix it successfully. We have the best fencing experts in Baton Rouge who will install your driveway gate correctly and within the shortest time possible. You can contact us today through our email or give us a call for more information about our services.
Driveway gates Baton Rouge
Apex Fence, LLC.
2253284302
11553 Cedar Park Ave.
Baton Rouge
LA
70809
View Larger Map
We welcome your comments!